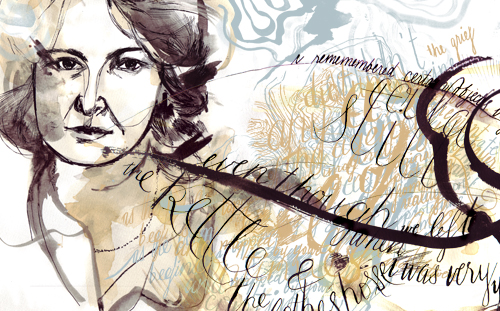 Actually, the title is a little misleading. Although Eavan Boland's Object Lessons holds some extremely fascinating (at times debatable) observations on the act and craft of poetry, what I'm really focusing in is the chapter The Woman Poet: Her Dilemma.
Clearly, I am a woman, and, on a good day when I'm not feeling too terribly British and self-deprecating, I am a poet.
Even though the essay was published in 1995, elements of the 'dilemma' Boland describes still exists. This dilemma exists in the converging space between 'new experience and an established aesthetic'.
What this means, to Boland, is that when the female poet puts aside her everyday things and sits down to write, she is haunted by voices. These voices fall into two opposed categories, although Boland does not reduce the dilemma to two simply opposed forces.
Anyway, the first category of these voices is 'the Romantic Heresy'– not quite Wordsworth Romanticism, but related in a way. This voice tells the woman that her everyday experiences are too ordinary and not 'poetic' enough. So, she must make them poetic– distancing the poem from reality, and risking entering clichéd territory.
Boland says of this voice that 'The woman is more alone with her meaning than most'. It's a stark statement. Maybe a little too stark for 2010. The woman writer and her problems have moved on a lot on 15 years– not just in the way that we have a female Poet Laureate in Carol Ann Duffy. There is a profusion of academic texts dedicated to the idea of the woman poet, womens studies are widespread in US universities and starting to spring up in the UK, creative writing courses help level the gender bias (from my own experience, the majority of the students in the one creative writing module I took were female).
The second and opposing voice that Boland describes is the more charged, angry nag of separatism. The separatist voice comes from feminism (although Boland is quick to emphasise that she cherishes the feminist movement). This voice demands that the female poet splits away from received poetic tradition, create a new female writing and its own standards of judgement– the idea of Écriture féminine. To an extent the separatist voice could be viewed as positive, but it can slowly degrade the female poet's work. By insisting that everything be 'feminized' and that historical angers about patriarchal oppression must be upheld, separatist notions create an 'appropriate subject matter and correct feelings'. Just as constricting as the Romantic Heresy.
Boland goes onto describe her own experiences of the dilemma in Object Lessons, but this central dilemma is what sticks with me as a reader.
Does it still exist? She calls it 'inevitable'. Certainly I think the threat of the Romantic heresy is something I can understand– but I think personally it's more about cliché and the idea of what experience is good enough for poetry rather than any gender questions.
As for the nagging of separatism, perhaps the ripples of this thinking lessen the more we move away from it in time. I'm really not saying that feminism doesn't have the same significance today by any means. I think maybe, well just for me, that the idea of separatist concerns is not too much of an issue. Sometimes I find overtly feminine writing (not girly pink feminine, the feminizing feminist feminine) entirely unattractive (Vicki Feaver, sometimes Sharon Olds).
It's not a straight up manifesto, but Boland does question some central issues in contemporary poetry. The tensions she interrogates could be transposed to any career woman.
So does this still matter? Has 15 years cleared up these issues? Or does the female poet still face a whole lot of trouble? (and in a small voice, what about the male poets– is it hard for them to0?)
*  *  *
Eavan Boland is not only a much lauded poet (in her native Ireland and internationally) but a Professor at Stanford in creative writing among other things.